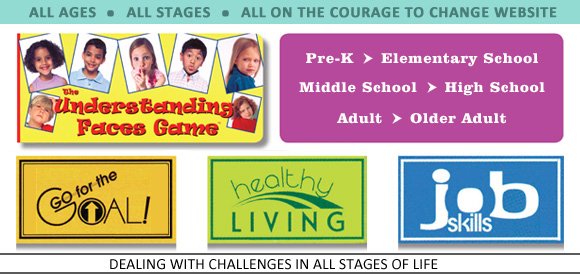 There are many different challenges that effect individuals throughout life. These difficulties can range from working on stress reduction, to dealing with the effects of PTSD. It takes courage to change and to face these hardships, but whether you are helping a client work on something as specific as dealing with sexual abuse, or you're a professional that is looking for better counseling tools so you can improve your counseling skills, Courage to Change has a full catalog of items to help.
Some counseling tools online catalogues will only offer products in older adult mental health, adult mental health, teen mental health or young child mental health. However our catalog has resources for every age group including for tween mental health and older adult resources.
In addition one does not have to be a counseling psychologist to benefit from our products. Any individual that wishes to learn and use counseling techniques to use towards personal counseling solutions and counselling programs should check out our products.
If you are a therapist who performs professional counseling there are several products that your clients can benefit from on our site. Many of our customers include those who perform premarriage counseling, crisis counseling and depression counseling. We have relaxation resources which are great for anger management counseling and marital counseling. It does not matter what types of counseling you perform we will have something for you.